Testimonials
We value our clients' experience at Springmill Pet Wellness Clinic If your pet or animal is currently a patient, please feel free to complete the following form.
Click here to fill out our client feedback form


Dr. Nichols and fellow staff are excellent! We were looking for a correct diagnosis and truly holistic approach to our 8 year old lab's ACL tear. We were able to make confident decisions and seek treatment for our pup in a way which honored both her sensitive disposition and also our medicine preferences. Through herbs, acupuncture, prolotherapy, etc., swimming and great care, our lab is loving life! She also now loves going to the Vet! Staff is so friendly and love what they do. Thank you, Springmill. We highly recommend for pets that are part of the family. ~Tessa F.
Our 2 year old mixed puppy had a problem with licking his paw (allergies!). We got an appointment right away and had a great visit. We now have medication and a plan to resolve his discomfort. They thoughtfully followed up with a call the next morning to make sure he was doing well. Highly recommend Springmill Pet Wellness Vet! ~Anon
Dr. Steve and the staff at Springmill Pet Wellness are outstanding. They always take the time to make sure all of my questions are answered and show so much love to our 3 dogs that they love going there. Steve's approach to total animal wellness through a variety of holistic treatment options is a welcome change from typical veterinary care. I have moved our dogs care to different vet offices just so the dogs continue to receive care from Steve! ~Susan W.
Thank you for taking care of Chandler out yesterday and getting him started on his heart treatment. I appreciated Dr. Nichols taking the time to explain Chandler's heart condition to me. Hopefully, we can keep little Chandler around for a while with this medicine! ~Lisa R.
This is a great facility for pet wellness thanks to an outstanding veterinarian, Dr. Steve Nichols; and a really caring staff. I have been using Dr. Nichols for my dogs veterinary needs for more than 13 years and couldn't imagine trusting their care to anyone else. ~Scott S.
Our newly adopted dog came with hookworm, a urinary infection, and an eye infection! Dr. Steve's approach was gentle and focused upon beginning a great relationship for the future. All 3 infections are now cleared, and our new guy is doing well indeed. His staff is also very focused upon developing and maintaining a great relationship with both the owners as well as their pets. ~Paul S.
Roentgen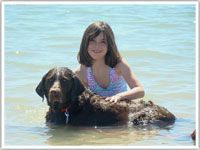 As a physician, I was somewhat skeptical when Dr. Nichols mentioned acupuncture as a means of treating Roentgen, our 8-year-old, 93-lb. lab, who was suffering from arthritis and a torn ligament in his knee. Dr. Nichols compassionately performed a series of acupuncture treatments with results that were very positive. Roentgen responded immediately and continued to do so. He became more active at the park, was much more energetic and pain-free, and was once again able to jump into the SUV by himself.

While Roentgen did eventually have surgery for his torn ligament (as we expected), we have continued to have Roentgen treated by Dr. Nichols, which has helped him stay limber and active. I have recommended Dr. Nichols to many of my physician colleagues who have large dogs with similar issues, and will continue to do so. -Scott Savader , MD
Hank
Hank, my five-year-old bulldog, has two thoracic hemi-vertebra, a developmental anomaly in which one side of a vertebra is incompletely developed. Together he and I compete together in agility at the Excellent Level, and during the last few months he has been running differently. Initially, I interpreted it to be a "phobia" of the weave poles during trials. Early on, he seemed fine at home and in class most of the time, but in trial situations he refused the weaves. Then, he started this same behavior in class and occasionally at home. At the last couple trials, he actually ran or walked around jumps and other obstacles—very unlike Hank.

Obviously wanting to help my buddy out, and being well aware of the fact he doesn't handle NSAIDS well, I looked to Dr. Nichols to help Hank with acupuncture. After three treatments, Hank was back to his old ways and weaving with the best of them. I guess a photo really is worth a thousand words! Dr. Nichols is extremely competent and courteous. He has helped Hank and I get back to what we love to do! -April Paulman, DVM
Sasha and Maya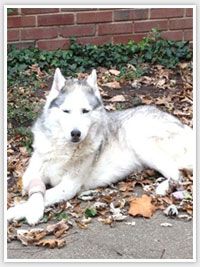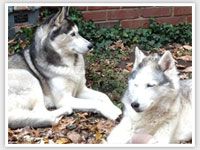 I have known Dr Nichols for more than 12 years. He has been the only vet for my Siberian Husky, Sasha, and he now also takes care of my four-year-old Siberian, Maya. He is a kind, compassionate doctor who gets to know his animals and their owners. He has been very patient and understanding with me and all my fears/worries.

A few years ago Sasha had a soft-tissue mass that Dr Nichols felt was most likely benign, but knew me well enough to say, "You won't feel alright unless we remove it," and he was correct on both accounts. He is fantastic with preventative services and dentistry. I like to brag about Sasha's beautiful teeth at age 12!

I was excited to learn about his extended training in the area of holistic medicine and the timing of it was perfect, as my girl entered her older years. She has some arthritis and a carpal valgus deformity, and Dr Nichols has prescribed a combination of Chinese and Western herbs that have helped keep Sasha limber and decrease her pain. I have noticed a decrease in her morning stiffness, as well as improvement in her movement and the length of walks she can take.

sashamaya2She has a sensitive stomach, and Dr Nichols has recommended homeopathic anti- inflammatories that are easier on her stomach. He has also used acupuncture, aquapuncture/biopuncture and some homotoxicology injections for her arthritis. Most recently, he has used low-level laser therapy for her arthritis and a bad hot spot that she developed.

The past couple years we have been dealing with a bit of incontinence with Sasha. I very much appreciate Dr Nichols approach to this. There are traditional medications for it, but I have big concerns about their potential side effects, and so Dr Nichols has used the above therapies to help with Sasha's strength in this area. I have seen marked improvement in her in the amount of her incontinence.

The frequency of treatments depends on Sasha, the time of year, and her response, but has not been overly burdensome. She tolerates them all well, with no recovery time needed. The cost of these treatments has been much less than I anticipated and is offset by the savings in not needing medications. Plus, the quality of life improvement for Sasha has well been worth it!

Dr Nichols is a wonderful practitioner in standard veterinary medicine and has the extremely valuable added training in alternative areas. He is passionate about what he does and believes in it fully. My Sasha trusts him, as do I. -Carla J Weaver, MD
Simba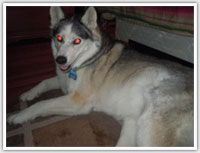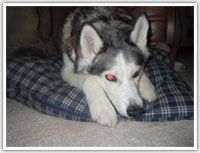 In January of 2011, we were in need of a vet in the Indianapolis area, and through a referral from another clinic, Simba and I made the transition from our vet in Ohio to Dr. Nichols and the staff at Janssen Animal Clinic.

Dr. Nichols' knowledge in eastern medicine was not only impressive but has been extremely beneficial for Simba, and we're very pleased with the results of the acupuncture/biopuncture, laser therapy and herbs. Dr. Nichols takes his time and always makes sure I understand what Simba is going through. I have asked the same questions on a number of different occasions, and yet he doesn't hesitate to explain it to me again and again.

simba2Thank you Dr. Nichols for the love, patience and support you have given to Simba. You've not only improved her quality of life, but we also believe we will have Simba for many more years to come. You are a true gift from God. -Angie Logan
Buster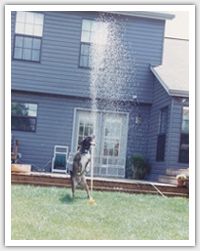 Buster, my 17-year-old shepherd mix, and I are true advocates of Dr. Nichols' acupuncture and herbal treatments. In January 2008, I worried about Buster's continued quality of life. His arthritis had worsened, and muscular deterioration on the right side of his face became evident. Dr. Nichols suggested acupuncture, and throughout the year improvements were obvious.

Although Buster may have looked like a porcupine during treatments, he didn't object and often dozed in my arms. His relaxation was immediate. With monthly visits, Buster has experienced increased energy and strength. He looks forward to walks and still hops into his favorite chair for naps. His appetite is healthy, and his ability to chew food remains stable. Buster may not be dancing under lawn sprinklers as in his youth, but he is enjoying his golden years peacefully. -Buster McCune's Mom
Kaya
Dr. Steve Nichols has been our vet for several years. Our oldest black lab, Kaya, has experienced arthritis in her back and hips, and could hardly walk. After taking her to Dr. Nichols, he suggested we try acupuncture. Dr. Nichols started giving her acupuncture treatments and this has been the best thing for her. She gets around much better and doesn't experience the pain she was in previously. Approximately three weeks ago, Dr. Nichols started her on herbal supplements, which we mix with her food in the morning and evening, and this has also increased her strength.

I would suggest to anyone who has a loved one enduring joint pain, arthritis, etc., to try this method—it has changed her life as well as ours. We cannot say enough about how this has improved her quality of life. When you see your loved one in pain, it is very heart wrenching; however, when you see the improvements they will experience, it is amazing. -Marla & John Ryan
Djagah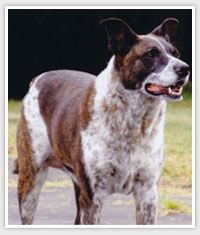 I grew up in a place and time when people did not take care of their animals. Even though I would have done anything to help my animals, I simply was not given that opportunity by the veterinarians in my hometown. One just did not go out of their way when it came to a sick animal. The pain of losing animals that could have been helped motivated me to search out veterinarians who would go the extra mile.

I first met Dr. Nichols when I asked him to do acupuncture on my greyhound CoCo. She was an amputee from an accident that had been diagnosed by another doctor with arthritis in her remaining rear hip. Dr. Nichols soon figured out that she actually had osteosarcoma. That sad day was the beginning of a journey of epic proportions as CoCo's unrelenting will to live pushed Dr. Nichols, now her primary doctor, to do the impossible in an unimaginably complex situation. Even though major universities refused to help, even though we were being told by everyone to put her down, Dr. Nichols never turned his back on CoCo and her determination to live. Because Dr. Nichols was willing and able to think outside the box, CoCo lived comfortably for over a year with inoperable osteosarcoma when most dogs would not have made it three months. A year may not seem like much to you, but it was the gift of life that no one else was willing to give CoCo.

Obviously, I have found the doctor willing to go further than the rest. And that is Dr. Nichols. I realize that he has a concentration on acupuncture, which is amazingly beneficial in a myriad of situations. But I would caution you not to loose sight of the fact that Dr. Nichols is an exceptionally good and knowledgeable medical doctor. He is focused on his patients, can actually diagnose an animal, and then has the common sense to make good and creative decisions about their care. And he will fight for them if allowed.

I am certain that CoCo would agree that is something that all animals deserve. -Juliana Robertson

​​​​​​​My dog, Djagah, has Perianal Fistulas—open sores around the anus a very difficult condition to treat. Dr. Nichols has provided a combination of treatments and a wealth of knowledge in not only recommended medications, but also diet suggestions both have been a tremendous asset to her condition.

He is thorough, complete in every detailed carried out with her care. He realizes the strong bond we have with our pets. Dr. Nichols is easy to work with, always smiling and taking the time to discuss concerns and responds to questions. His knowledge and attention to detail have aided in keeping Djagah healthy and strong to fight her overwhelming condition. -Carol Ann Smith
Jasper and Riley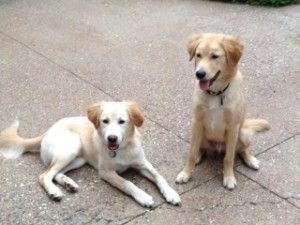 Our family has been using Dr. Nichols for the care and treatment of our dogs for years. He is astute in traditional medicine but has also trained extensively in alternative treatments. Dr. Nichols is an exceptional veterinarian; professional, compassionate and caring. We first met Dr. Nichols through his work with the local humane society and are grateful for his continued care of our dogs. We highly recommend Dr. Nichols and his staff. -David S
Dr. Steve Nichols has been our vet for a couple dozen years and several dogs! Our dogs enjoy going to see Dr. Steve and his staff, as they are very patient & positive with each dog! Why do we like bringing them to Dr. Steve? Because of his unusual INTEGRATIVE approach that combines standard Veterinary approaches to treatment and surgery, along with his good skills with herbals and natural medicines. If that weren't enough, he also uses acupuncture and laser therapy that have kept our dogs, particularly our senior dogs, happy and well! These additional approaches can provide positive results when commonly prescribed medications leave aspects of the total therapy covered less thoroughly. I have verbally recommended many friends and acquaintances to him due to his broader approach. We don't have cats, though if we did, I would take them to him as well! -Jan and Paul Snyder

​​​​​​​Call us with questions or to schedule an appointment: 317-830-0037
Springmill Pet Wellness Clinic is located at 224 W 161st St.
Westfield, IN 46074.