Do you need an easy way to break up the expenses for year-round flea, heartworm, tick, and intestinal parasite preventative for your pets? We have a plan designed for you!

At sign up, you will be billed the sign-up fee and the first month's payment of your plan, then your credit card will automatically be billed monthly for the 11 additional monthly payments. (The manufacturers of the dog products offer a rebate that will reimburse you for your signup fee.)

We provide your pet 12 months of protection depending on your pets age and the products chosen. Typically, you will be sent home with 6 months of preventative at your first visit. Then, in 6 months, you will visit the practice with your pet to ensure that we have an accurate weight, to dose your pet correctly, and we will send you home with the next 6 months of preventative.
FELINE PLAN
12 Months of Revolution®
Outdoor and indoor felines are at risk for contracting ear mites, fleas, heartworm disease and intestinal parasites. Revolution® is an all-in-one topical preventative that treats and controls ear mite infestations, prevent and control flea infestations by preventing flea eggs from hatching and killing adult fleas, prevents heartworm disease and treats and controls intestinal hookworm and roundworm infections.
Sign-up Fee: $35
Monthly Payment: $15
Rebate: $35(from Zoetis)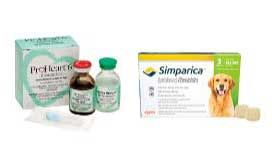 CANINE PLAN A
2 Doses of Proheart 6
12 Doses of Simparica
A single ProHeart 6 injection is an effective prevention of heartworm infection in dogs for 6 months. With only 2 injections, 6 months apart, protect your dog from heartworm disease, hookworms, whipworm and roundworm infection.
Simparica is a an oral chewable flea and tick prevention. When given monthly, it will provide your dog with year round flea and tick coverage.
Fastest speed of kill for all ticks and fleas

Safe for dogs with seizures and allergies


Sign-up Fee: $50
Monthly Payment: $20
Rebate: $50 (from Zoetis)
CANINE PLAN B
12 Months of Nexgard™
12 Months of Heartgard™
NexGard™ is an oral chew, given monthly, that provides 30 days of flea and tick prevention.
Heartgard™ is an effective oral preventative, given monthly, for heartworm disease, hookworm, and roundworm infections.
PUPPIES - This plan is used to accommodate the rapid growth rate of puppies under 1 year of age since the dose they require may change monthly. ​​​​​​​
Sign-up Fee: $50
Monthly Payment: $25
Rebate: $50 (from Merial)