Our Team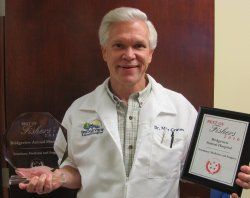 Dr. Mike Graves
Dr. Graves earned his Doctorate of Veterinary Medicine degree from Purdue University College of Veterinary Medicine in 1982. For over 30 years, he has been active in small animal medicine and has owned and operated over 12 small animal practices. In addition, he has managed and consulted with another 54 hospitals nationwide. Dr. Graves is an active member of the American Veterinary Medical Association, the Indiana Veterinary Medical Association, the Central Indiana Veterinary Medical Association, and a member of the American Animal Hospital Association. Dr. Graves founded Bridgeview Animal Hospital and Pet Wellness Clinics in August of 2005. Dr. Graves and his wife Barbara, a registered veterinary technician, along with their Australian Shepherds, Gabriel and Gibson, live in Fishers, IN. They have 2 adult sons, Ben and Josh.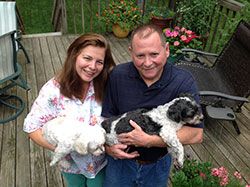 Dr. Mark Bailey
Dr. Mark Bailey has over 20 years of practicing Veterinary Medicine in the Fishers area, specializing in companion animal healthcare. Dr. Bailey graduated from the Ohio State University College of Veterinary Medicine in 1987. Professional interests include internal medicine, ophthalmology and virology. In 1981, he graduated from Purdue University with a Masters Degree in Virology. Recently engaged, Dr. Bailey and his fiancé Darlene are making plans to marry next year. They have five children – Sara, James, Heather, Holly and Andrew. Two grandchildren – Andrea and Layla. Two dogs – Kirby and Sable, and four 'grand dogs' – Barnyard, Kita, Chumley and Gertie.
Dr. Jim Dechand
Dr. Dechand graduated from Kansas State University in 1994. He has practiced in the Indianapolis area since graduation. He and his wife Teresa have 2 daughters, Mackenzie and Jacqueline and a cat Jemma. Dr. Dechand is kept busy with the youth group he helps lead and working with the Westfield High School Marching Band. He has special interests in small animal surgery and exotic pets.